Use this page to submit a request for a quote for Kino Flo Lighting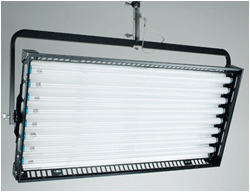 fixtures for your studio. Virtualsets.com, Inc. is an authorized Kino Flo reseller that aims to get you the very best prices possible for these excellent fixtures. We'll always do our best to beat any other offer you have received.
We typically specify and install Image 45 DMX light fixtures for blue and green screen studios. Occasionally, with an extremely tall cyclorama, the Image 85 DMX fixtures (pictured) are used.
At Virtualsets.com, we have installed Kino Flo lights in studios around the world. Please don't hesitate to request a quote.
Contact us for more information!
Kino Flo is a registered trademark of Kino Flo, Inc.
All content ©2007-2008 Kino Flo Lighting Systems and Virtualsets.com, Inc. All rights reserved.